Mother Day at Idin Jewellery
Products 1-11 of 11 shown
Being a Mother is not always an easy job and many Mums are doing a remarkable job in raising their children - and some bring even other people's children up. We know ourselves how much fun - and troubles - children can be. Let's be thankful to our Mums and make their Mother Day Special. And who can resist a fancy piece of Jewellery!?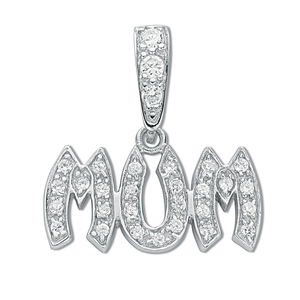 A stylish pendant made of Sterling Silver. Pavé set with highest quality cubic zirconia, this piece will surely leave a lasting impression! As with the rest of our Sterling Silver items, this pendant has been hallmarked in the UK - no need to worry about the metal, it's all genuine 925 Silver!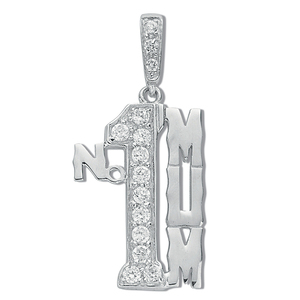 Let your mum know who's the number one! With excellent Sterling Silver, and finest quality cubic zirconia, this pendant should be a loud and clear statement!
Hallmarked in the UK, so you know that this pendant is made only using genuine 925 Silver.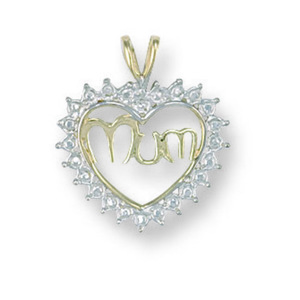 This glamorous heart of White and Yellow gold is a great way to show your gratitude to your beloved mum. Send a clear message that your mum is always in your heart!
Hallmarked for your peace of mind - like the rest of our range, this is genuine 9 carat gold!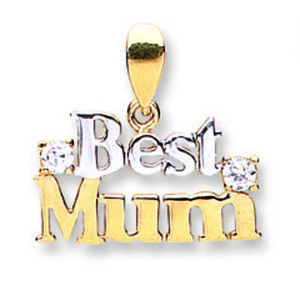 A piece made of both White and Yellow gold. This mix of colours highlights the individual words of this pendant so you can make sure your statement is heard loud and clear: the best mum is here!
If gold is more your mum's style, this pendant might be just what she needs! Set with finest cubic zirconia, this 9 carat gold pendant is an excellent gift to show your appreciation towards your mum!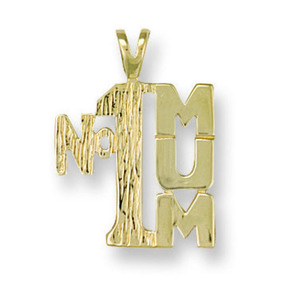 What better way to announce the number one mum, than with gold? With this pendant, you can be sure to make a podium impression. Made of 9 ct yellow gold, and hallmarked in the UK. Nothing but genuine metal!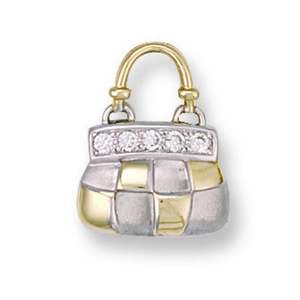 Handbags are often indispensable for mums, and this gold pendant can go along with your mum's handbag well! With a setting of the highest quality cubic zirconia, this is just one of the ways you can let your mum know that you appreciate everything she's done for you!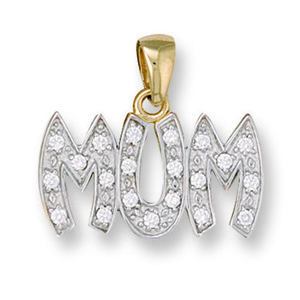 A 9ct gold pendant set with dazzling cubic zirconia stones. If you are looking for a golden opportunity to show your mum well deserved appreciation, this pendant is an excellent way to do so! Hallmarked in the UK, so you can go ahead and shop safely!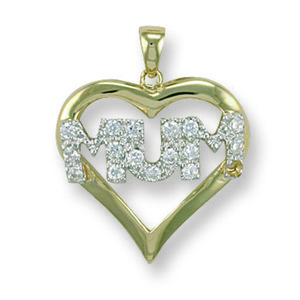 This pendant is a perfect way to express your love for your mum - she is always in your heart! A 9 carat gold heart and letters on the inside, set with exquisite cubic zirconia stones.
Inset with captivating 0.15ct Diamonds and made of 9 carat Gold, this triple heart pendant's interchanging layout of gold and diamond insets on both sides of each heart makes for a striking appearance that is sure to be an eye catcher. Definitely not one to miss!
Three colours of gold, three hearts, and 0.15ct diamonds. This multicolour masterpiece will captivate everyone with a display of exquisite craftsmanship and enchanting gemstones that adorn this 9 carat gold creation. Take a look and see for yourself!
This drop pendant is hallmarked for your peace of mind - all the gold and diamonds are genuine!
Want to see more?
If you need more inspirations or look for something more than "Hearts" and "Mum" styles, you can explore the full sections that may interest you.
For Scottish Designer Jewellery, please follow the below links:
Andrew McCallum – Pieces that were designed with an eye for beauty and breathtaking attention to detail
Clare Hawley – The Scottish wilderness embodied in Silver
If, however, you prefer something more fashionable yet with a luxurious feel stamped all over it, your mother will love the J-JAZ range. Make your choice in the following categories:
Looking for even more?
In case you want to REALLY impress your mother and want to spoil her on that Special Day with real, solid gold or even diamonds, then you have to visit our partner site JAREEYA.
About mother's Day
We all love Mother Day
.